---
Posting Legend
Posts: 1313
Joined: Sat Aug 03, 2019 14:32 pm
Location: London
Has Liked: 1148 times
Been liked: 611 times
Gingerlove05

wrote:

↑

Wed Feb 12, 2020 22:01 pm

"Mine!....and now i'll just go hide over here" *evil laugh*
...and that's what the shrimp thought, too
---
---
TOTM Winner

Posts: 258
Joined: Thu Aug 08, 2019 10:17 am
Has Liked: 79 times
Been liked: 159 times
They have them in the 'sister' shop in Oldham too. £16 a pair for the 'smaller' ones (still quite chunky)or £25 a pair for the bigger ones. Not much between the sizes, but the smaller ones all look female annoyingly.
I'll see what comes up in the auction, but may have to just dig deep and splash out on a nice pair of big ones. I know a chap bringing some to the auction cheap, but they're barely showing colour and his adults don't seem to have the red fins and darker orange heads like these.
Appreciate the update.
Quick update for everyone else:
The quarantine tank is now cycled. Seems the calculations for ammonia were off and I was over dosing. Tank processed about 5ppm ammonia in 24hrs and only 0.25 nitrite. I added the ammonia back up to 2ppm and 13hrs later ammonia and nitrite was zero. Topped it back up to 2ppm. Will do a final check tomorrow morning, but then it's off to a fish auction for some inhabitants.
Things I'm looking for include:
Gold rams - ideally an adult pair of nice ones, but I may just get some young and grow them out and see how they naturally pair off.
More brochis splendens. I only have x2 currently. I reckon I have 1M and 1F as one is definitely long and thin and the other getting bulkier and taller. 3/4 more maybe if they come up.
L397 - Been looking for a male for a while. Unlikely to find one, but you never know at the catfish auction. Fingers crossed.
And that's it. (My theory is, if I write it down then I'll stick to it and won't impulse buy anything else)
That's the theory...
---
---
Forum Guru

Posts: 3859
Joined: Sun Jan 21, 2018 20:21 pm
Has Liked: 993 times
Been liked: 553 times
Straight jacket and leash?
---
TOTM Winner

Posts: 258
Joined: Thu Aug 08, 2019 10:17 am
Has Liked: 79 times
Been liked: 159 times
Back from the auction and I was very well behaved.
Only came away with x2 brochis splendens and x3 gold rams. Well I say 3 rams. That's what it says on the bag, but as they're smaller than my Male cardinals they could be anything! Think juvenile was a bit of a generous description, definitely more fry. All good for the price though.
I did also pick up x3 huge fat sword tail females (they weren't on the list, as they're being gifted from a friend after the last ones I got from him all turned out to be Male!). Picked them up on the way home.
Brochis and swords are in the finally cycled quarantine, but as the rams could well get eaten, I've had to add them to my little medial tank currently with a couple of honey gourami and x2 cardinals in. Mild skin conditions, but the meds won't do the new fish any harm either. Hopefully this batch of swords will fair much better than the last as I'm hoping I've finally got a handle on the PH issue.
Great to see Piker at the auction and very much appreciate the moss you brought me
Auction was a bit slower than most I've been to. A LOT of books and individual plants for sale. Not quite as many fish. No L397s but I may have picked up some leads. No zebra plecs either, but I'm hoping to sort some next week if I can med all these new fish in a week and clear out the quarantine tank.
Pix of the not so gold ram fry. I'll try and snap the big ones tomorrow once they've settled in a bit.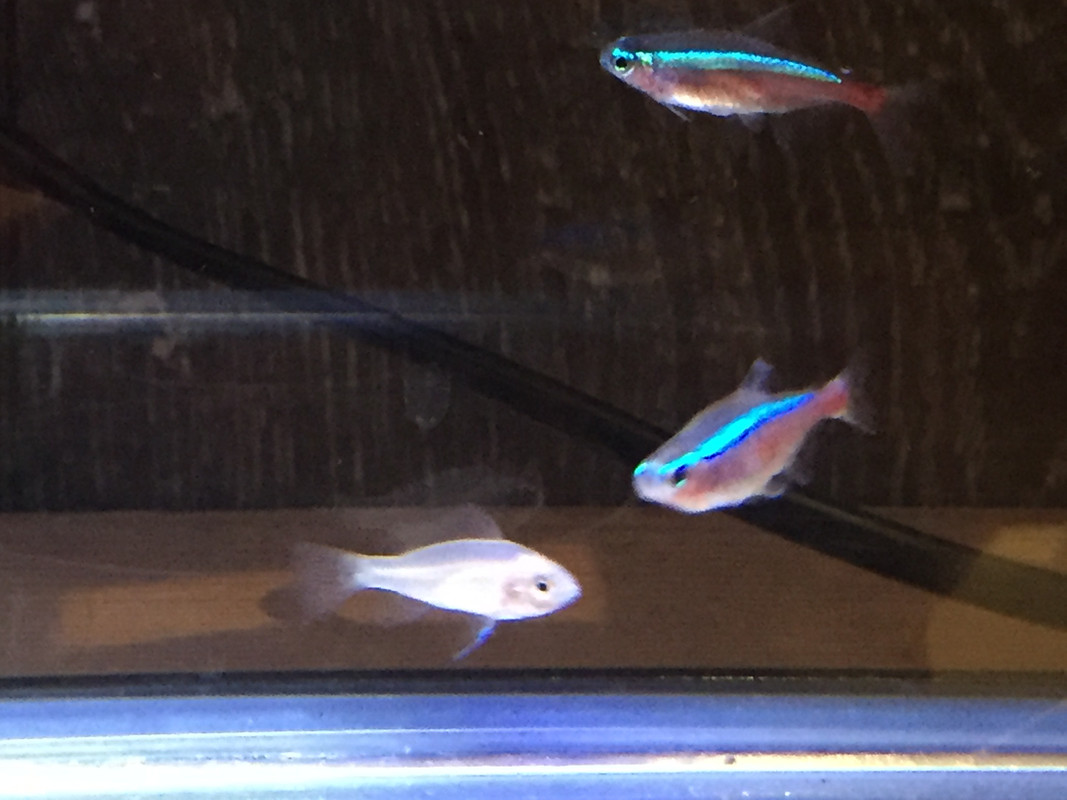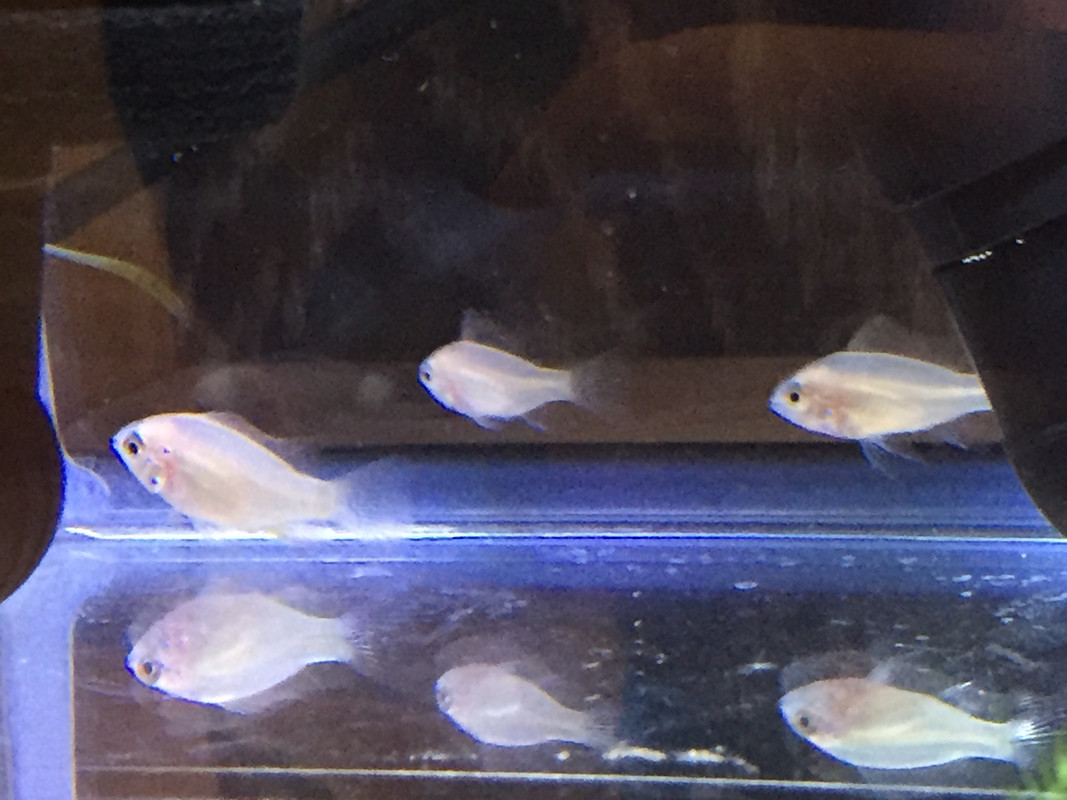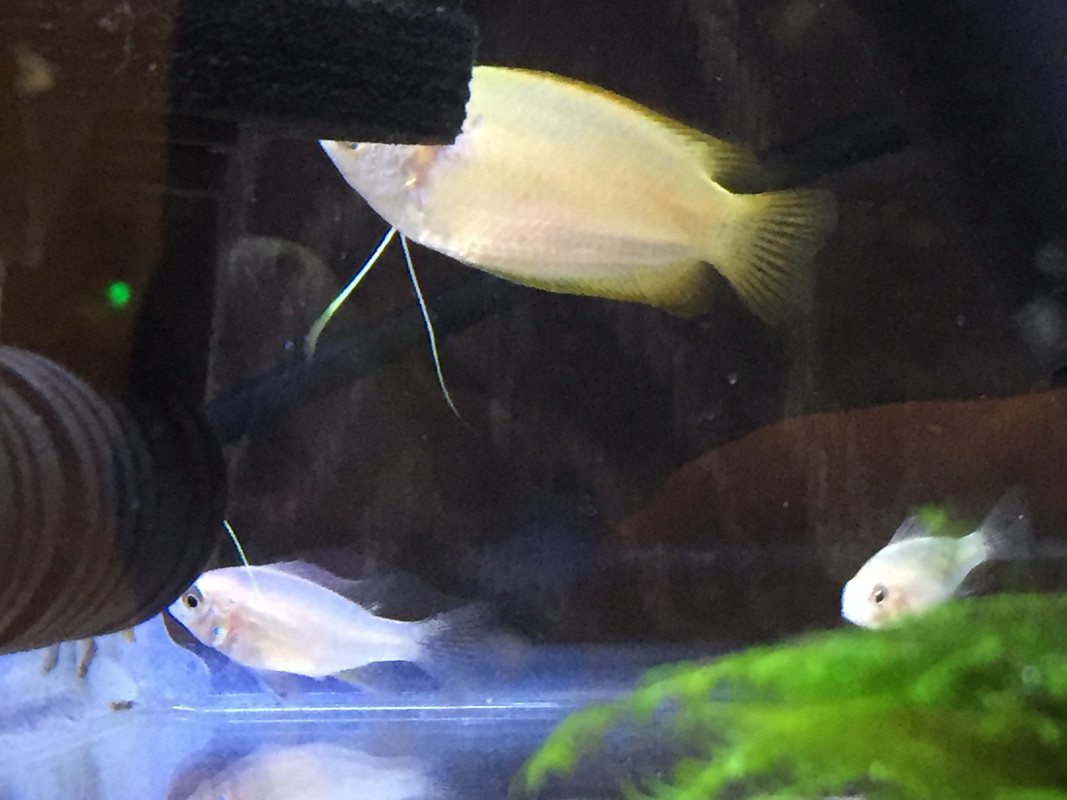 ---
TOTM Winner

Posts: 258
Joined: Thu Aug 08, 2019 10:17 am
Has Liked: 79 times
Been liked: 159 times
https://youtu.be/x2zcP-rU1TY
New female sword tails. Absolute bruisers!
---
Posting Legend
Posts: 1313
Joined: Sat Aug 03, 2019 14:32 pm
Location: London
Has Liked: 1148 times
Been liked: 611 times
Your swordtails look great but it seems you have 1M & 2F - the pineapple coloured one surely looks like a male to me. Gonopodium forming and sword hasn't grown yet.
---
Forum Guru

Posts: 3859
Joined: Sun Jan 21, 2018 20:21 pm
Has Liked: 993 times
Been liked: 553 times
I agree with Ric. They might not grow a full swordtail, although my plat-tails did grow a sort of sword or point on their tail, it wasnt a full sword.
Do you know how old they are Si?
---