Hi all,
*Silly long post - but putting it all in one rather than 3 or 4!*
Due to recent changing around in tanks, I had a spare 4ft and I'd been pondering many uses. I'd posted on here about it.
Angels were tempting
Or an aggressive community another option (Barbs etc)
Both of these options I eventually ruled out as I thought it'd just be the same as the discus tank minus the discus - and the tanks are right next too each other.
Puffer was tempting me but Jodie was less convinced and thought it's just the waste of a big tank to have 1 fish in it that never moves....
Coldwater I briefly considered but maybe another time!
Then the 2 choices I kept coming back too - MBUNA or Marine
Both had plenty of colour but ultimately I decided I wasn't ready for marine just yet for a few reasons but main one being cost, for marine I'd need to get a hang on back overflow and setup a sump - I'd need alot of £££'s worth of rock, and that's before the thought of the £350-£400 light! Combine this with the fact my freshwater knowledge has built to a point where I'm fairly confident in it from a hobby level the complete opposite of the marine world. (Though I still have much more to learn than I know!) so decided MBUNA.
Interestingly I should of known this would happen, When I got back in the hobby with the jewel lido 200 about 18month ago now and was looking to buy the 4fts my driving factor was MBUNA with a view of doing that in one of the tanks for a while before "braving" discus. It was only talking to the LFS about how "difficult" the "king" of the hobby is in the discus and them rubbishing most of what you hear that made me jump straight to the discus - so I guess it was always going to happen to come back to African cichlids at some point.
That was the easy part, if you think the hobby is bad for the internet opinions conflicting and everyone convinced there's only "one way" and its the way they do it, MBUNA takes this up a level.
For a tank my size recommendations ranged from 18 to 30 fish!
Some said only 2 species, others said no 4 or 5 is fine, some people had 24 fish of 10 different species and say its a calm and aggression free (as a mbuna tank can be) tank and there youtube videos seem to back that up - Its a mine field!
From talking to my local LFS (They started out as malawi breeders so that helps) it seems very much the species in a tank thing is down to limiting risk of aggression (although some aggression is inevitable), and also due to the risk of cross breeding so I can rule that risk out as I'm not interested in raising and selling fry I don't think - certainly for now so a few hybrids surviving wouldn't be terrible for me.
But anyway, regardless of this, and still reading ALOT of posts and websites etc I've jumped in with both feet and I now have a MBUNA tank.
So, tank got completely emptied. All sand removed and replaced with "samoa" coral sand - as much rock as I could find that I'd had from other scapes gathered today - and another £50 spent on more (and more probably still required as stock builds and fish grow!) - But we're filled with water and we were ready for fish. My water is hard anyway, but with the coral sand and spider web rock in there too - its probably liquid rock in there!
First mistake, prior to the fish - got the new sand, stripped the old out and about to pour somewhere between 20 and 25kg of sand in, laziness got the better of me and I didn't rinse the sand - full week or constantly stirring the sand up and clearing out the filter and its finally beginning to clear!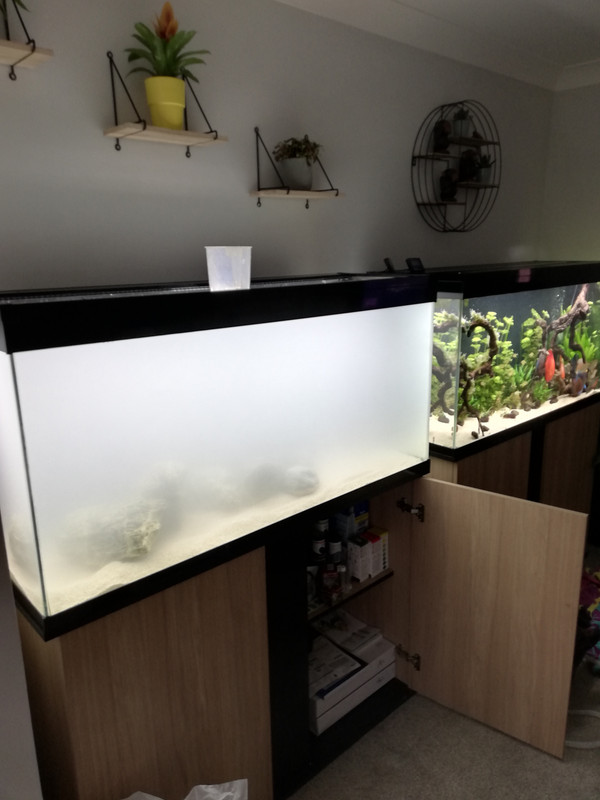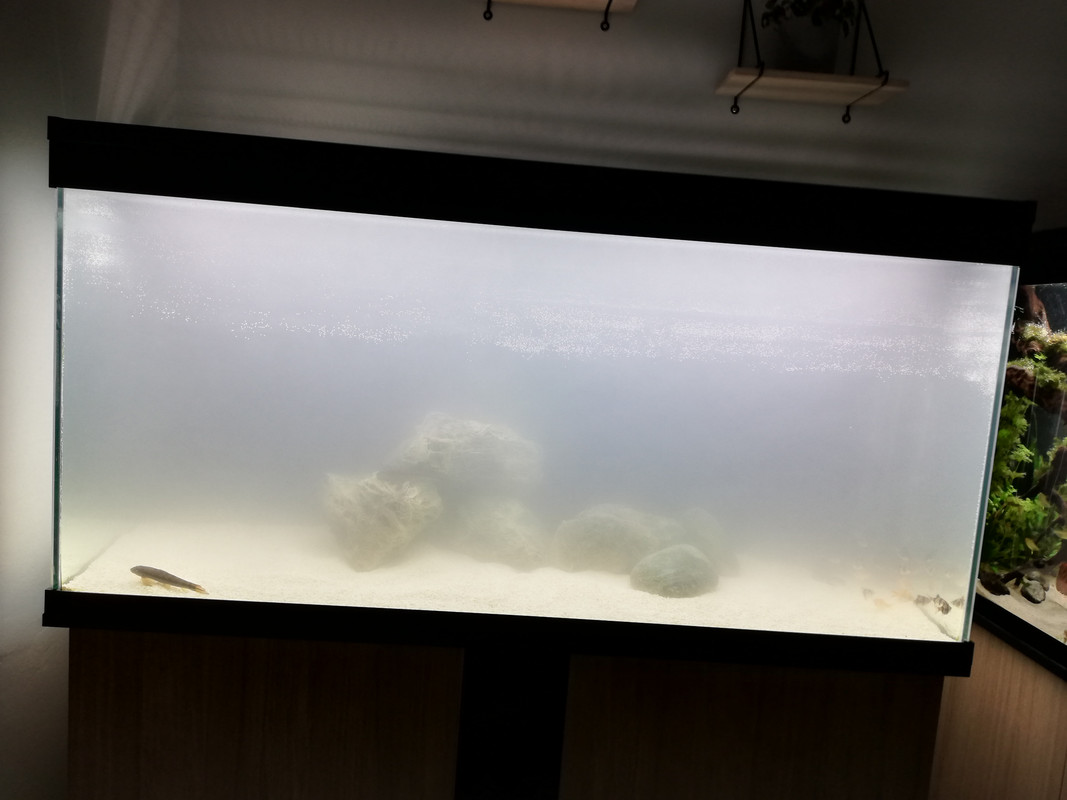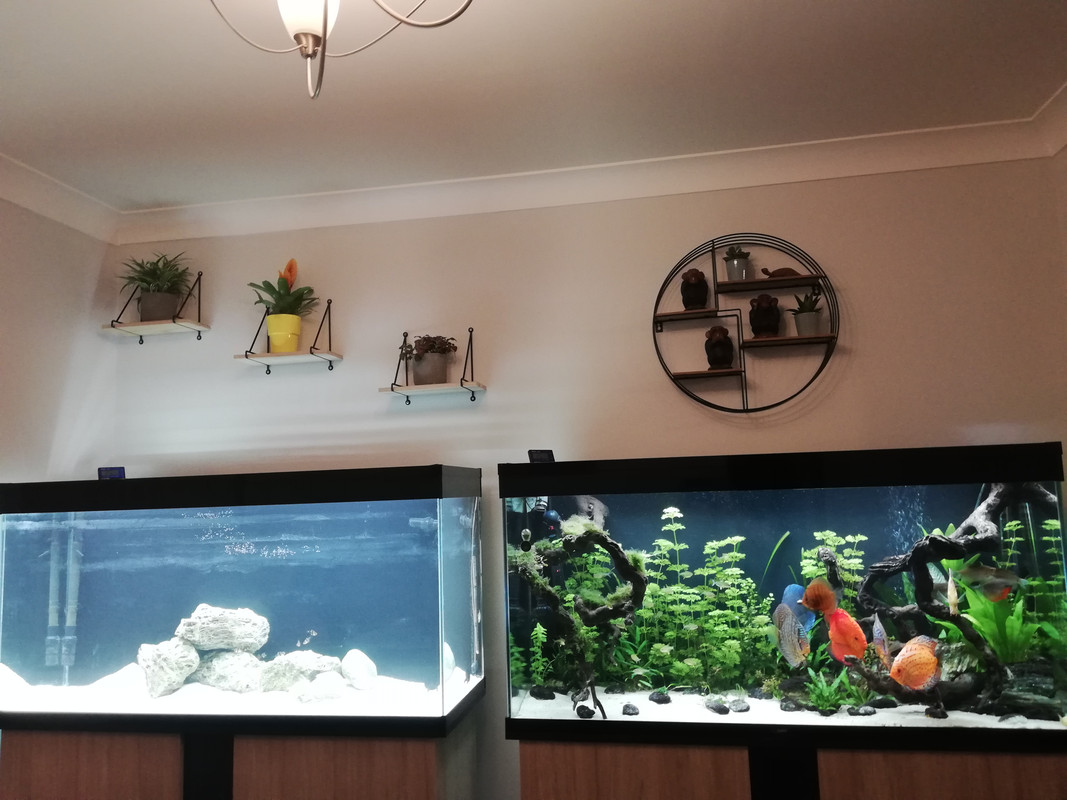 So then it gets to the stocking, I'll see how I go. I think 30 is too many, especially seen as some of the ones I like can get to 5 or 6" but i think high teens would just encourage aggression so I'll likely go for 20-24fish and stock quickly before anyone gets too settled!
I went down to my LFS and took photos of the names of everything they had in stock, then came home - drew up a list and starting researching each of the ones available a breed at a time making notes on a spreadsheet around size, "family" and notes around mixing etc. Then from that built a bit of a wish list up.
Then back down to the LFS to get some fish and ask about some other types I'd like!
So as we stand today my stocking is:
6 Coral Saulosi (Pseudotropheus Saulosi) - Aimed for 2 male and 4 female (All these start out yellow, then the males turn blue! - I know at least one is male as he's already starting to change, then the shop do there best from knowledge on the others but its very difficult, basically if I end up with too many males there happy take the male back in and try again)
4 Flavus Mbuna (Pseudotropheus Flavus) - Aimed for 1 male and 3 female - these are known as quite aggressive I just love the look of the male! - The females can stay quite bland but there worth it if you get a good well coloured up male in the tank!
3 Super red Hongi (Labidochromis Hongi) - Aimed for 1 male and 2 female - Similar to the Flavus males are stunning, females less so but you need to balance that aggression
And that's it for now, for now I've seen 3 males showing to one another but no nasty aggression and no fish are hiding away its for now very active.
So for now, here we are: