Hi,
New setup!
Sorry, another long post from me!!
As you may know, we had a 4ft Must tank with 2 Musk's, we'd had the musk's for just over 9 years, but after about 8, 8.5 we started to get aggression between the what we thought were 2 females.
We tried all the tricks, lower temp, new scape, splitting tank etc - nothing worked, one was just a bully and really musk's should be kept without other turtle's or in a huge space.
So it became clear we needed to rehome one or both of them (depending on tank size) and after looking into this briefly I found a local reptile shop to me took in rescue reptiles. Gave them a call and explained everything and they said sometimes this aggression just cant be cured and is quite normal (i think it was made worse by the fact the other seemed to not fight back and just hid away). So they explained they ran a rescue where I had to pay a fee, sign surrender documents then they keep the animal for a month to be sure of its health, then rehome but the home they go too was subject to inspection and the new owner had to sign a form to say if they could never care for the animal they had to return it too store rather than sell on (although they did admit its difficult to police).
So there was that option, or we could list it for sale on gumtree/pets at home where they sell for £30ish+ but I didn't like not being sure it was going to the right type of home as they're UVB/Heat requirements are often overlooked due to them not basking, so although we could get money rather than spend it, we thought it was right by the turtle to spend it and give it a better chance of a good home!
For me then the thought of having a 120cm tank with the musk in didn't really do much for me and Jodie then explained she wanted to keep them but simply couldn't reach into the Ciano Pro Emotion 120s for the water change with ladders or a faff which just made her lose some interest. We agreed to rehome one turtle and get a 80 - 100cm tank for the other. (Spot for the new tank was max 100cm). - Some places only said a musk can be kept in a 60cm tank, I wasn't comfy on this, just didn't seem right (although would of been cheaper as we had a 60cm tank!). The turtle specific tanks seemed to start at 80cm, so we set that as the min required for us.
Then too the shops! - Plenty of choice around for that size, walking in the store they had a offer on the Ciano Pro Emotion 80 & 100 and they would match the 120's perfectly! - But they were only a few cm shorter so same issue!
Eventually after some shopping around they had a stack of Ciano Aqua 80s in the corner, filter, heater, led light... £85! - No brainer! So tank was purchased for the single musk.
And here's how we sit! - Lets see how we get on, with it being a 80cm there is only the Musk and 1 of the CAE's in here, coincidently we only have 1 CAE now! - During fishing out all the tiger barbs from the 120 I got one CAE as I was planning on putting a CAE back in with the turtle as they'd been together for a few years now then couldn't find the other one! - Just as I'm starting to get all the rocks etc out trying to find it to be sure I'd not buried it when moving stuff around - I found it....behind the tank on the floor! Must of jumped out why I was trying to catch the barbs and other CAE!
- Not fish I'd buy again no doubt, but still not great to lose one to jumping! Never saw/heard it jump!
Anyway... the tank:
Whilst setting up/cycling: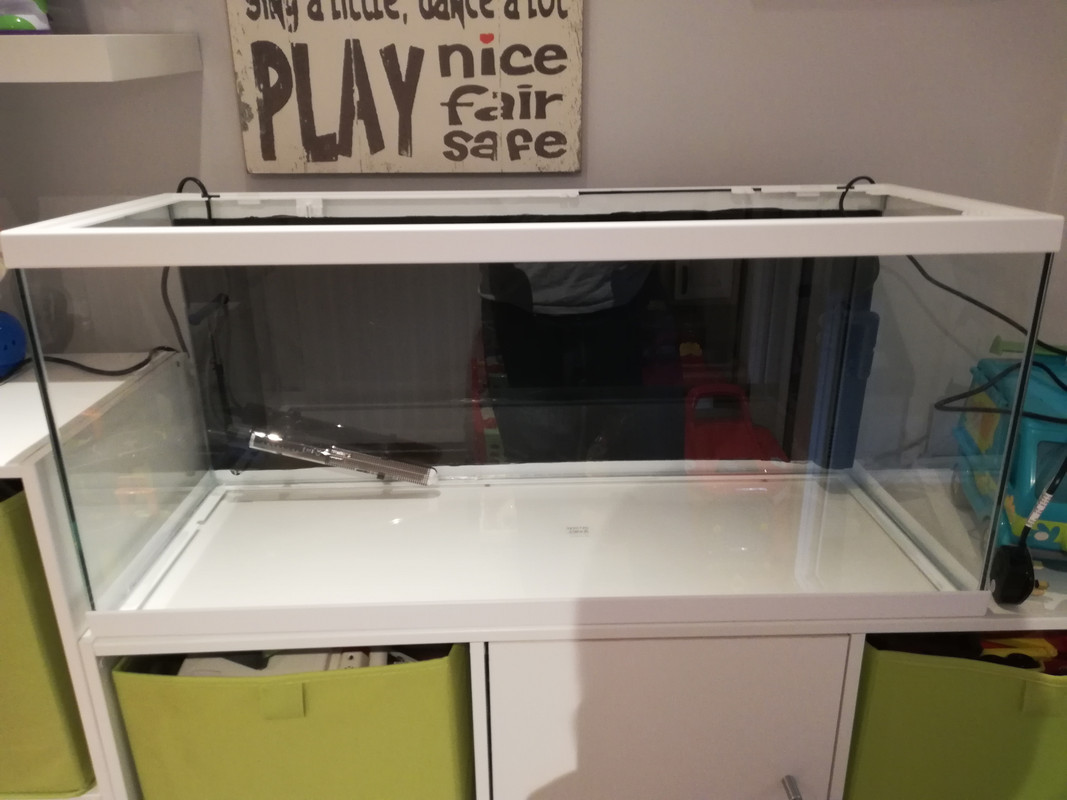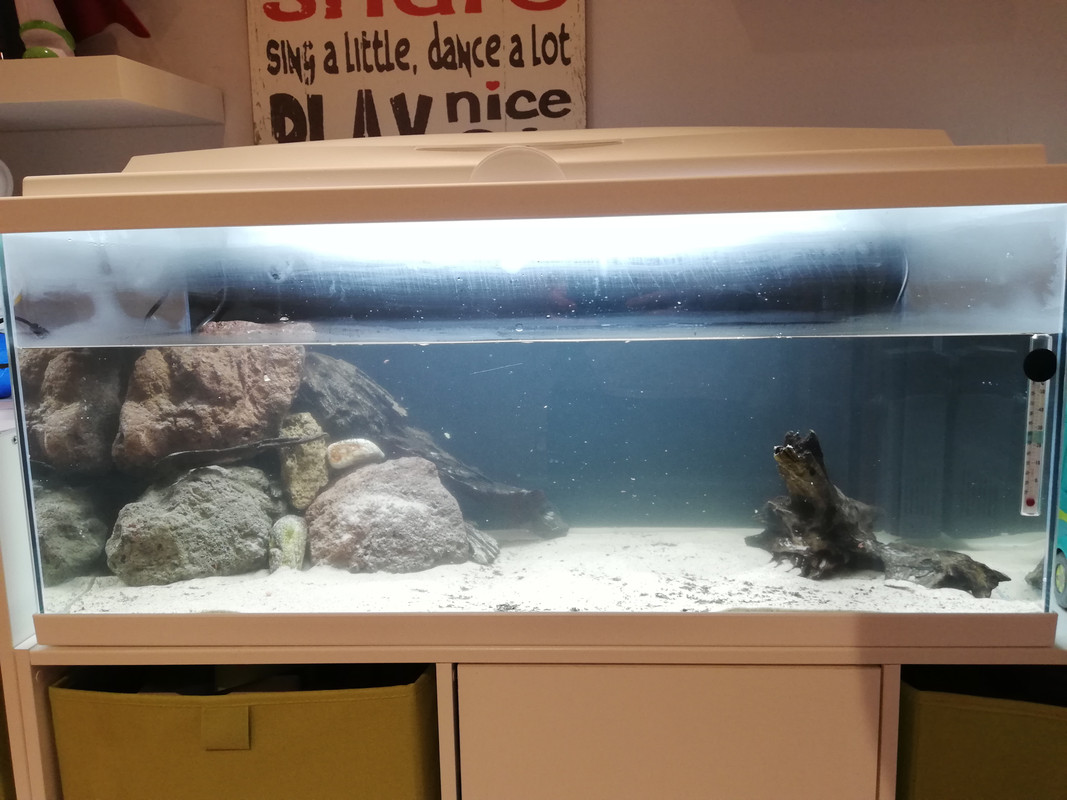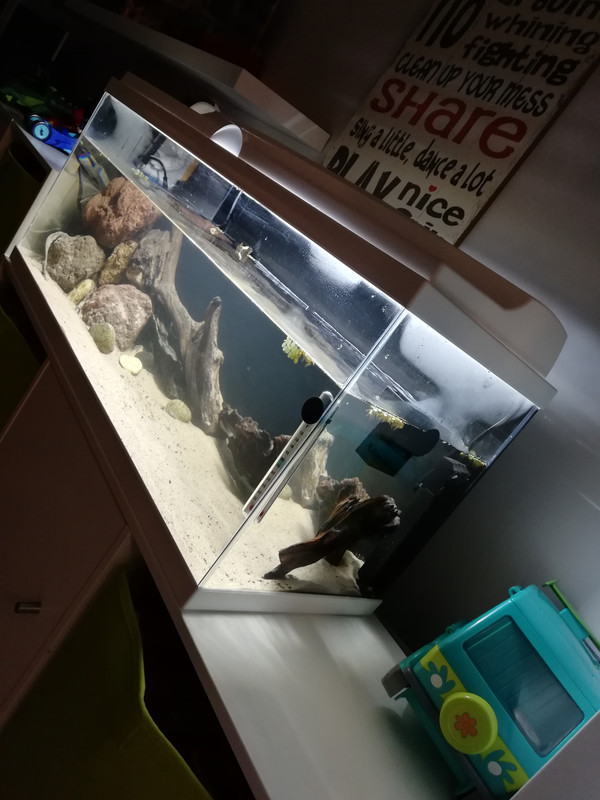 And as of today: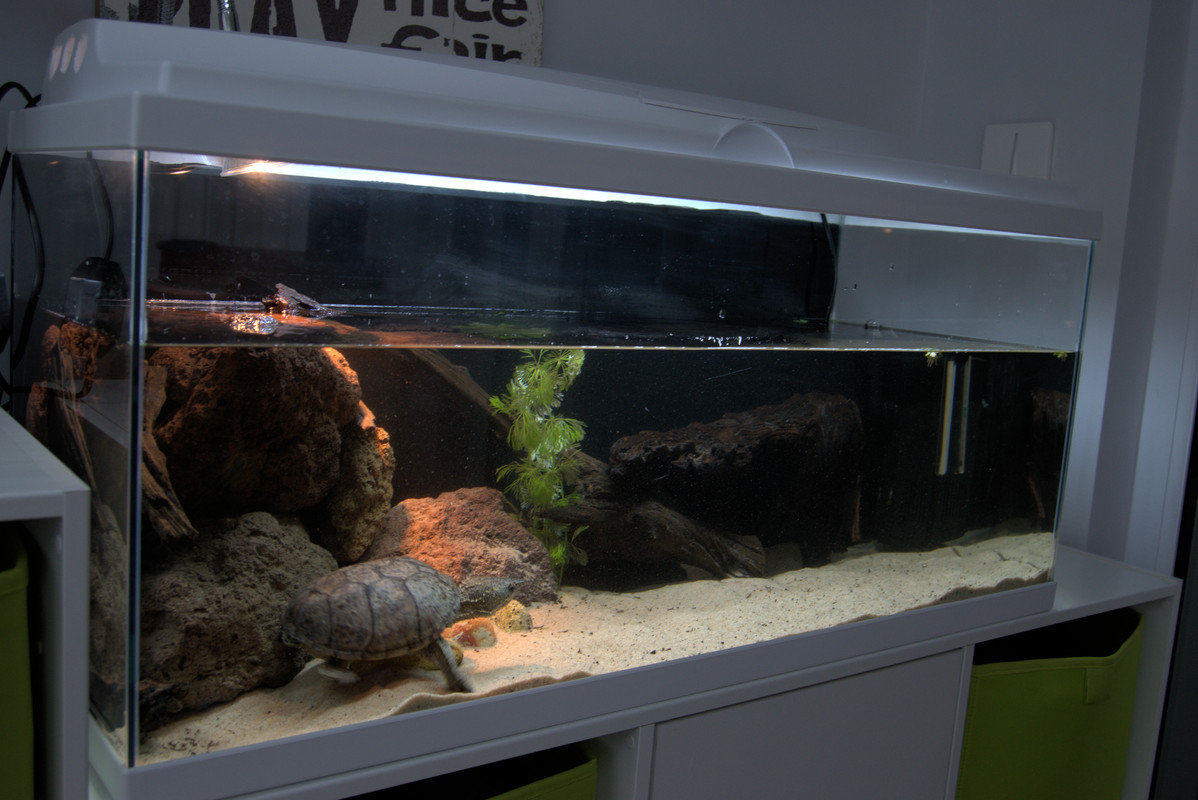 Thanks
Lee