Admin-TOTM

Posts: 4244
Joined: Sun Jan 28, 2018 16:04 pm
Location: West Midlands
Has Liked: 532 times
Been liked: 1226 times
Nice little bivalve on the zoa frag
---
Senior Member
Posts: 429
Joined: Fri Aug 09, 2019 19:27 pm
Has Liked: 199 times
Been liked: 672 times
It had moved around a bit this morning, perhaps to optimize its position in the current. Or maybe just to escape that pesky peppermint shrimp, which has been bothering it (and eating all the tubeworms on the new frags!)
---
---
Forum Guru

Posts: 5089
Joined: Sun Jan 21, 2018 20:21 pm
Has Liked: 2549 times
Been liked: 1610 times
*straps in* here we go
---
Senior Member
Posts: 429
Joined: Fri Aug 09, 2019 19:27 pm
Has Liked: 199 times
Been liked: 672 times
I'm currently scratching my head about to fit everything into the cabinet!
Wondering if it's feasible to screw the doser to the inside of the door? Also I need to think about where to fit the power sockets.
So far I have ordered a return pump, and I have the doser and gyre from my previous salty tank. I also have a spare LED light for the sump.
Next purchases will be the skimmer and a new heater since I'm not sure how much I trust my spares.
Then some rock.
That should be enough to get me started, I can save up for lighting while the tank cycles.
I don't envisage getting anything wet this side of Christmas.
---
Super Mod

Posts: 7605
Joined: Sun Jan 21, 2018 17:02 pm
Location: S. Derbyshire
Has Liked: 1937 times
Been liked: 1728 times
Nice early prezzy though......
---
Senior Member
Posts: 429
Joined: Fri Aug 09, 2019 19:27 pm
Has Liked: 199 times
Been liked: 672 times
Yes - it's completely emptied the fish budget which is why I need to wait a bit before I buy the other equipment. Still, it will give me time to think and plan the equipment layout and the tank scape.
---
Senior Member
Posts: 429
Joined: Fri Aug 09, 2019 19:27 pm
Has Liked: 199 times
Been liked: 672 times
I did some setting up today.
Firstly I levelled the cabinet with the adjustable feet.
Then I installed some extension leads for the power. I have also installed an extra cross-piece of aluminium angle to give me somewhere to tie the cables to so that they are a little neater. I'm afraid I don't have quite enough OCD to make it all beautiful in there, but I do want it safe!
My Eheim pump arrived in the post, so I've put that in place. Happily it leaves plenty of space in the final chamber for other stuff.
I also positioned my sump light (an existing LED strip) and made a couple of brackets for it. It will be removable to give easy access to things behind/below, but I don't want it falling in the sump.
I also fitted new impellers to my old Gyre which I will re-use in this tank. One of the old ones had broken, and there's a new improved design available as a spare.
I have not yet positioned the tank or installed the rigid plumbing. I need to put a background on one side of the tank first, and then find a friend to help me lift it!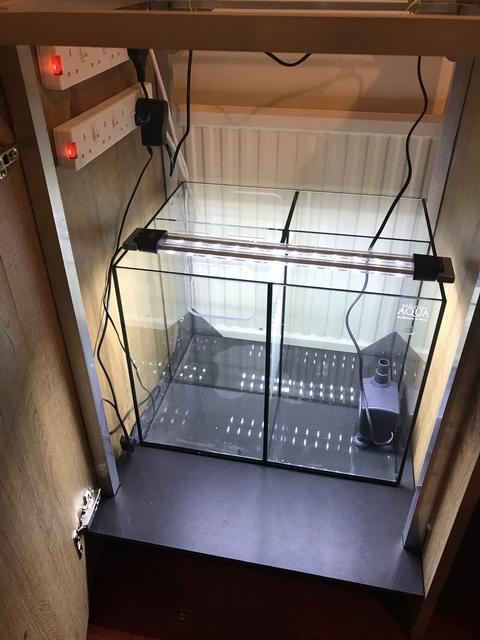 I have done some sketches for the tank scape and am coming towards a preferred option. That's still some way off though - I need to be able to afford the rock!
---
Senior Member
Posts: 429
Joined: Fri Aug 09, 2019 19:27 pm
Has Liked: 199 times
Been liked: 672 times
I'm not going to be able to get the tank set up before Christmas, and there will be a longer wait before I can buy the rock etc.

However, I'm wondering about getting the sump running in advance. I have the pump and could simply circulate water within the sump.
By adding a few small bits of rock and a scoop of sand from the 40L tank, together with some other spare rocks left over from the old 120L salty tank, I could start something cycling and maturing. I think that would give a head start when I come to set up the tank properly.

Any thoughts?
---
Forum Guru

Posts: 5089
Joined: Sun Jan 21, 2018 20:21 pm
Has Liked: 2549 times
Been liked: 1610 times
I dont think it would hurt getting things going if you can keep them ticking over until your ready to set up
---