Worst time to go on holiday ever.
I am leaving tomorrow and our beautiful betta has developed a fungus infection and, likely, a fin rot infection.
You can see it here, he does not look great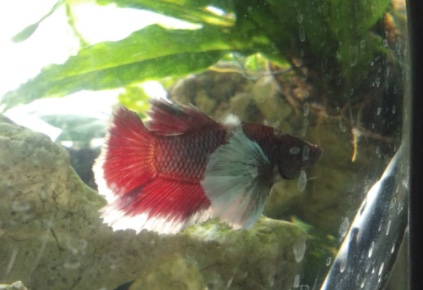 I will be away from tomorrow, 23d to the 30th December, which is more or less 7 days, and, of course we are really worried that we may find a dead betta when we are back. So, what should we do. Yesterday, I have done a full water change, removing all the dirt in the tank; I have removed the active carobns from the filter and added "anti fungus & finrot +" to the water, as specified in the website "
https://www.interpet.co.uk/Support/The- ... calculator
" :
3 ml of Anti Fungus & Finrot Plus. Use to treat against mouth rot, fin rot and cotton wool fungus. Also use Aqualibrium First Aid Salt to support your fishs recovery. *Shake well before use*
Frequency
This is a one dose treatment. If you need to re-dose or use another treatment wait seven days and carry out a 30% water change first. When dosing is complete, return your carbon filter.
So, tomorrow morning I was thinking to do this: add some aquarium salt, maybe some methylene blue (I am not sure it is needed), lower the temperature to 25 Celsius, give some food to the fish, but just a pinch and basically leave for one week.
Is there anything else you suggest? Should use the salt and metylene or skip both or one of them? Cover the tank or leave it visible (it is currently next to a window so it has daily sunlight)?
Thank you all, from my, my gf, and poor sick Dumbo