I was so excited with my find.
My wish list of fish species for my current theme include:
Corydoras atropersonatus
Corydoras fowleri
Corydoras loretoensis
Corydoras sychri
Hemigrammus ocellifer
Hemigrammus pulcher
Hyphessobrycon loretoensis
Hyphessobrycon margitae
Hyphessobrycon peruvianus
Hyphessobrycon margitae (Red-Blue Peru Tetra)
Petitella georgiae (false rummy-nose tetra)
Nannostomus mortenthaleri (Coral Red Pencilfish)
I have been searching for stockist of any of the above and got so excited when I found this list advertised on-line at a LFS (Maidenhead Aquatics). It meant an 80 mile trip but I love trips.
(click image to enlarge)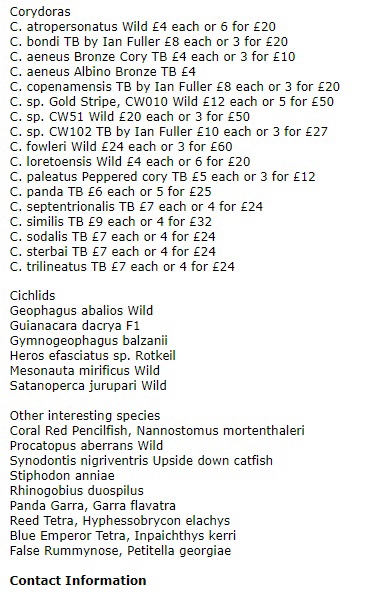 There are 5 species that are on my list. I was so excited that I telephoned the LFS.
I rarely pay full price for fish, so I had already put my bartering/negotiation hat on.
A male person answered the phone and I asked was he the manager, the reply was yes he was. (great start).
I introduced myself and asked if he was willing to negotiate prices as I usually get great prices from other MA stores (words to that effect).
I told him I was interested in 15 x of either Corydoras fowleri or Corydoras atropersonatus or Corydoras loretoensis if the price was right.
I then went on to say that I was also interested in 30 - 40 x Petitella georgiae (false rummy-nose tetra). I also mentioned Red-Blue Peru Tetra which he replied he sold out of them last week.
He then asked where did I see the advert, I replied.
He then told me that 'that advert' was an old advert from 2018 and that he had no stock of any of the fish that I had previously mentioned.
He then told me that he was having a delivery from Peru sometime in August (next month) and asked for my contact details.
He wrote down the fish that I was interested in and said he will contact me if any of the mentioned fish species arrive in the shipment.
The conversation continued for several minutes, basically talking about the hobby.
So from being very excited to slight disappointment.
I have since re-read the advert and it was dated August 2018.